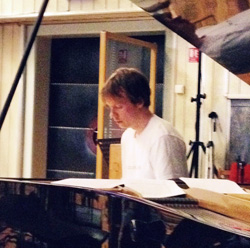 Welcome
Adam Langston is a composer and orchestrator for film and television, classical and popular music.
Sony Pictures' animated hit 'Planet 51' (featuring John Cleese, Gary Oldman, Jessica Biel), worldwide arena spectacular 'Walking With Dinosaurs', and HBO network series 'Crusoe' (Sean Bean, Sam Neill) all feature Adam's orchestrations, arrangements and additional music.
Recently Adam acted as arranger and conductor on Michael Winterbottom's film 'The Killer Inside Me' (Jessica Alba, Casey Affleck, Kate Hudson), and as orchestrator on blockbuster '2012' (Sony Pictures, dir. Roland Emmerich).
He is currently composing the score for Kris McManus' movie 'Travellers', screening in the Berlin Film Festival 2010. In 2009, he wrote music for 'The Hunt For Gollum' and 'Born Of Hope', two internet-released independent LOTR prequels, which have been seen by more than five million people worldwide. Adam's score to 'Dead Wood' was nominated for Best Music at the New York B-movie Festival; the film recently screened in the Salento International Film Festival, London 2010. Adam also composed and produced source music cues for 'In Bruges' (2008).
Adam did programming and orchestration for 'The Priests', the fastest-selling classical debut album ever, as well as orchestration work for The Heritage Orchestra (Russ Garcia's 'Fantastica') and the City of Prague Philharmonic (Ernest Gold's Oscar-winning score to 'Exodus'). Adam continued to work with top-selling EMI artist Alfie Boe, platinum-selling artist Charlie Winston, and with Reckless Entertainment.
Click here to listen to Adam's music.